---
Session 3, Race 1 – I put fresh rubber on the car, but why can't I go any faster.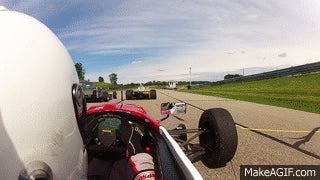 ---
My qualifying time puts me 3rd overall on the grid, but P1 in class. The two cars on the front row, an Atlantic and F1000, have a big power advantage so I'm hoping they can get away out front and leave me some clean track. Unfortunately, the opposite happens. The Atlantic has serious power and opens a gap on the straight but then holds up the F1000 in the corners and their battle in consequently holding me up.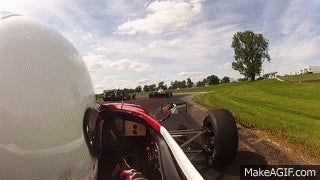 ---
I am tailing their battle for a few laps until the F1000 spins, I have clear track now and I look down at my dash.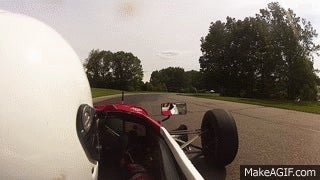 ---
I am running in the high 1:17s. For 13 laps I tried, and tried, and tried to find time and go faster but the times popping up on my dash were all slower!

Thru my helmet I'm thinking, "These newer tires should be faster. I know they're takeoffs, but they've got tons of tread left. This doesn't make sense. I blew it!"
I know the tires will only slowdown from this session onwards. I feel like my best opportunity just slipped away. Another thought runs thru my head. "Well, there are two laps left, I've got a good gap to 2nd, let me back off a little, take it easy for a lap, then try and throw down a flyer"
…..1:16.64 later. Shit, that worked! How did I manage that!?
I managed to surprise myself with a lap 6 tenths faster and 3 tenths off the lap record. There's more in here apparently, and I must have found something. We have to sit thru impound for way too long. I'm anxious to get back to my paddock and find out how I did it.
Let's whip out the computer and take a look.
Welp, the data says it's possible so I better sack up and get it done. I've got 4 tenths to work with so there's no reason I can't do what I set out to.
The rear bar change (deletion) seems to have been a big improvement. It's put a little bit of understeer back into the car. I know my driving style pretty well and I really like understeer on entry to help carry speed into a corner, but that means I have a hard time telling when understeer is actually slowing me down. The only way to work around that is to make another change and try and loosen the car up. Since I no longer have any rear bar I move to the front and dial some front anti roll bar out.

Pt. 4 tomorrow; Sunday Qualifying - qualifying lap times don't count toward lap records.